Fun With Mystery Reels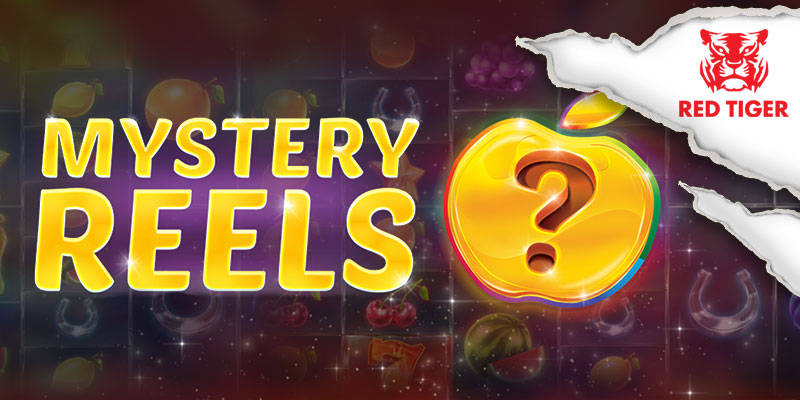 What do you get when an online casino game expert gets hold of a classic game theme? The ultimate upgraded gaming encounter. Yup, that's exactly what awaits players when taking Mystery Reels for a spin – a Red Tiger design that offers nothing plain or simple when it comes to its features. Classic fruit-themed slots may seem like a thing of the past, but Red Tiger brought the old-school theme back to life with gorgeous graphics and innovative features that make for a pleasant gaming encounter. Online casino fans in Canada that have eagerly been anticipating Red Tiger's arrival in the region can finally experience Mystery Reels, one of its top creations at Platinum Play. But, we'll get into that a little later, for now, let's see what fun this online slot game has to offer.
The Basics
A sleek black background forms the main stage for the Mystery Reels online slot experience. A simple layout makes navigation a complete breeze, particularly for first-time gamers or those that might not be too clued up when it comes to technology. The spin button is represented by the bright yellow icon at the bottom of the screen. This button is used to spin the reels, and when playing on PC or laptop, the space bar can be used as an alternative to manually clicking the spin button. Another plus is that this title also offers an autoplay feature – allowing gamers to set a predetermined number of spins while they sit back and watch as the reels spin by themselves. A cheery soundtrack makes for an overall pleasant gaming encounter, but if you're one who prefers to play in silence, simply click on the sound icon at the top of the screen to disable sound. The top right-hand corner is where you'll find the info page – simply click or tap on the three horizontal icons to view it. The info page holds all of the important details related to the rules of the slot, something that players who value being informed may appreciate.
Why It's A Good Choice
Mystery Reels offers a good range between old-school and new-school mechanics, so players who may have a few more years of experience in the online casino game department, may just like its best-of-both-worlds approach. What's more, first-time gamers often approach online slots that are overly complicated with caution, Mystery Reels is therefore a good choice for these players as the layout of the game screen, features of the game, and overall entertainment quality on offer is perfect for those that may be intimidated by games with a more complex approach. Then there is the overall quality of the title. Often, fruit-themed slots tend to be designed with outdated graphics that, when played on the modern devices of today, just do not provide a good entertainment encounter. Red Tiger has taken this classic theme and given it the 21st century makeover, making for a gaming experience that is of the highest quality even when playing on a smaller screen like a mobile or tablet.
Mechanics That Wow
But, while there is so much that can be said about the fantastic design of the Mystery Reels online slot, there is even more that can be said about its fun feature – and might we just say that high-rollers, this one's for you. Firstly, Mystery Reels offers 20 paylines. If you were around during the days of classic 3-reel slots, you'll know why the addition of 20 paylines in such a meaningful feature. Then we have the highlight of this title, the Mystery Symbol bonus feature. The mystery symbol is represented by the gold apple icon with a question mark in the middle. When one of these icons make an appearance on the screen, a number will replace the question mark in the middle. This number determines the amount of times the mystery symbol will move to different positions. All symbols that the mystery symbol replaces when it moves will alter into a mystery symbol and transform into the same symbol. There is also the Wheel Bonus – activated each time a bonus icon makes an appearance. The Wheel Bonus can reward different Multiplier values based on the number it lands on after a spin. Here, the maximum payout available is up to 5000x your stake.
History Of Red Tiger
So, who exactly is Red Tiger? Since its launch in 2014, Red Tiger quickly became a known 'face' in the online gaming sphere. This provider's impeccable design capabilities led to near-instant success and resulted in its creations becoming highly sought-after around the world. When it comes to its online casino game designs, players in Canada will be happy to know that its innovative abilities has led to the creation of some rather unique titles, including those based on a huge variety of themes, from classic fruit-themed slots like Mystery Reels, to adventure themed titles like the popular Jack in a Pot, with these Red Tiger games available at Platinum Play.
Fun At Platinum Play
Platinum Play has always made it its mission to provide online casino fans in Canada with the best entertainment experience possible, and the addition of Red Tiger to its existing gaming catalogue truly ups the quality of the gaming experience on offer. If you're keen to get started, the fruity, contemporary themed Mystery Reels online slot could be a good choice!