About Red Tiger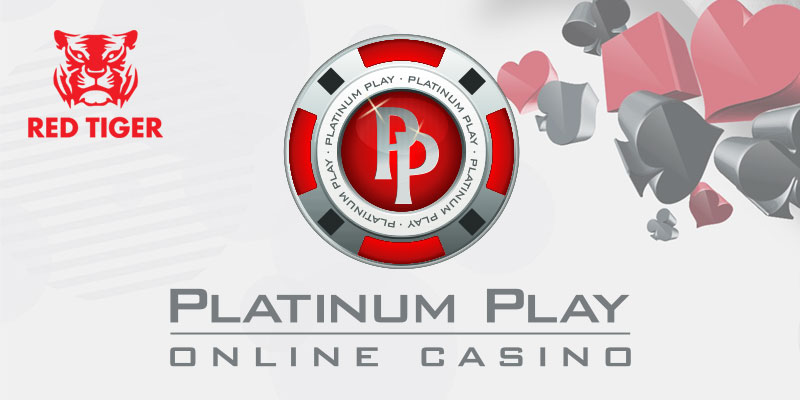 When it comes to online casino games, players' preferences around the world may vary. In Canada, gaming enthusiasts most certainly know what they want and look for in an online casino game. Software providers in the region therefore really have their work cut out for them. The good news is that for Red Tiger, creating quality titles that cater to a wide range of player needs is second nature. And now, players in Canada finally have access to their fantastic selection of online casino games. Launched in 2014, Red Tiger quickly grew to be a sought-after name amongst players around the world. Its online slots push the boundaries by offering exciting themes, rewarding features, and excellent mechanics. At Platinum Play, members have access to some of Red Tiger's most popular online and mobile casino games, designed to suit play on most devices, without compromising the quality of their playing experience. Let's take a closer look.
Red Tiger's Hottest Games
Platinum Play extends a vast assortment of gaming titles from Red Tiger for players to choose from, and while many of them offer unique entertainment features of their own, some have proven to be more popular amongst online casino fans in Canada than others. What is it about these titles that make them stand out from the rest? Well, there are a few features that we could highlight, like great Free Games features, adjustable stakes, and interactive bonus rounds. So, without further ado, here's a list of top five Red Tiger titles to explore at Platinum Play.
Jack in a Pot
Who doesn't like a gorgeous, Irish-themed online slot game? And when it comes to Jack in a Pot, Red Tiger most certainly knew what it was doing. With Jack the Leprechaun accompanying you along your playing journey, you'll experience interactive symbols like green clovers, leprechaun shoes, horseshoes and, of course, those pots o' gold. This title offers up a 7-row and 7-reel mechanic, with bet sizes that welcome all types of players, from the first-time gamer to the seasoned oldie. Then, for the cherry on top of an already magical gaming encounter – players can look forward to a round of Free Spins too, all you have to do is venture over the virtual rainbow in the hopes of finding it.
Treasure Mine
Dig deep through the virtual trenches to find the Treasure Mine online slot game. Another popular Red Tiger online casino game, this slot takes players on a journey with Redbeard the miner, as he seeks to find a fortune of his own. This fun, adventure-themed title offers HTML5 graphics, which allow for a seamless playing experience across PC, laptop, mobile and tablet devices. Along the playing journey players will discover a variety of intriguing symbols that help bring the theme of the game to life. These include a hammer, miner's hat, a pair of goggles and a lamp, while the low value markers are represented by the classic A, K, Q, J and 10. But, what really makes this a fun playing experience is the addition of three Wild symbols which each offer up unique features. The Redbeard Wild will hop onto the screen in the hopes of collecting a treasure, while the dragon Wild will shoot flames towards the Redbeard Wild if they make an appearance on the same spin. Then there is the Treasure Strike Wild which will add treasure Multipliers when it makes an appearance. With so many fun and captivating features to look forward to, it certainly comes as no surprise that this Red Tiger creation has earned a spot on this list.
Reel King Mega
Are you a fan of classic online casino games in Canada? How about taking a contemporary design with an old-school feel for a spin? Reel King Mega is Red Tiger's version of the classic Reel King by Astra Games. And if you are familiar with Reel King, then you'll be captivated by some of the improvements Reel King Mega has to offer. With a 5x3-reel slot layout, and up to 20 paylines, Reel King Mega offers a modern twist to classic symbols like cherries and plums. Its retro arcade feel serves up some major nostalgia, particular if you're familiar with the look and feel of some of the first slots that entered the market. Red Tiger got so many things right with this creation, and the good news is that it is apart of the gaming catalogue at Platinum Play – all that's left for you to is to experience its nostalgic charm for yourself.
Piggy Riches™ Megaways™
Lifestyle of the rich and famous – piggy style. Yup, we're talking expensive champagne, bowties, and some rather opulent swine. Piggy Riches™ Megaways™ introduces players to the world of Lady Pig and Gentleman Pig, a virtual power couple who are ready to enchant you with a range of bonus features that include 117,649 Megaways™, a Free Spins feature and so much more.
Mystery Reels
There's something about old-school online casino games that players in Canada seem to love. It therefore comes as no surprise that Mystery Reels has earned a spot on our list. Upon firing it up, players will discover a gorgeous game design, innovative symbols that tie in with the theme of the game, and the ability to play the title on a PC, laptop, or mobile device of their choice.
Experience Red Tiger at Platinum Play
Red Tiger received a rather warm welcome in Canada and based on what its online casino games have to offer, it's not hard to see why. The good news is that at Platinum Play, a feast of Red Tiger mobile and online casino games has been laid out, it's simply up to you to dig in. With a range of responsible gaming tools and safe banking options at your disposal, Platinum Play provides members with a top-class selection of gaming titles, all in a completely safe and secure environment.